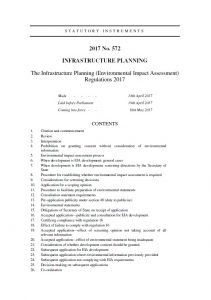 New EIA regulations come into force today.
The Infrastructure Planning (Environmental Impact Assessment) Regulations 2017 transpose the 2014 amended EIA Directive into UK law.
Only minimal change necessary to comply with the Directive have been included and as such the EIA process does not significantly change. The key amendments involve more front-loading at the screening and scoping stages, with the intention of fewer EIAs overall and more proportionate assessment.
Read more at: www.legislation.gov.uk